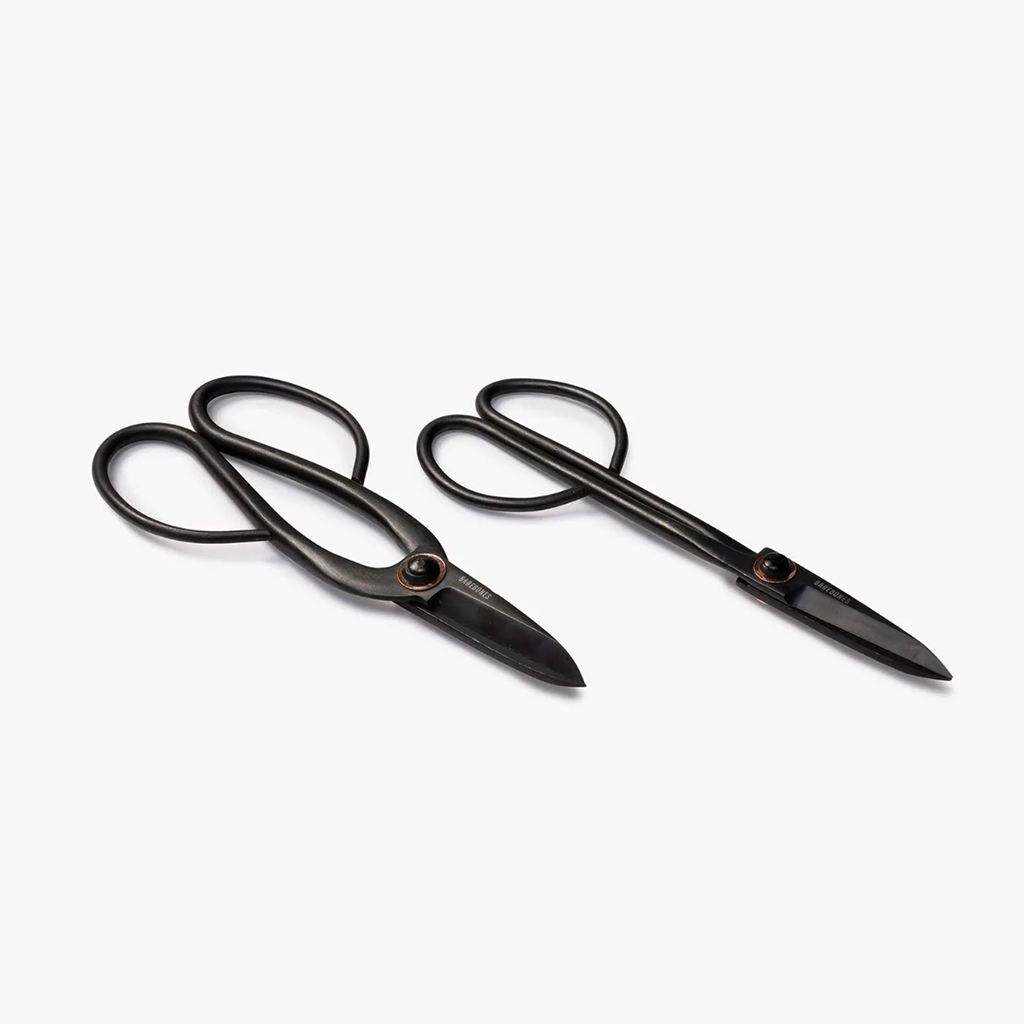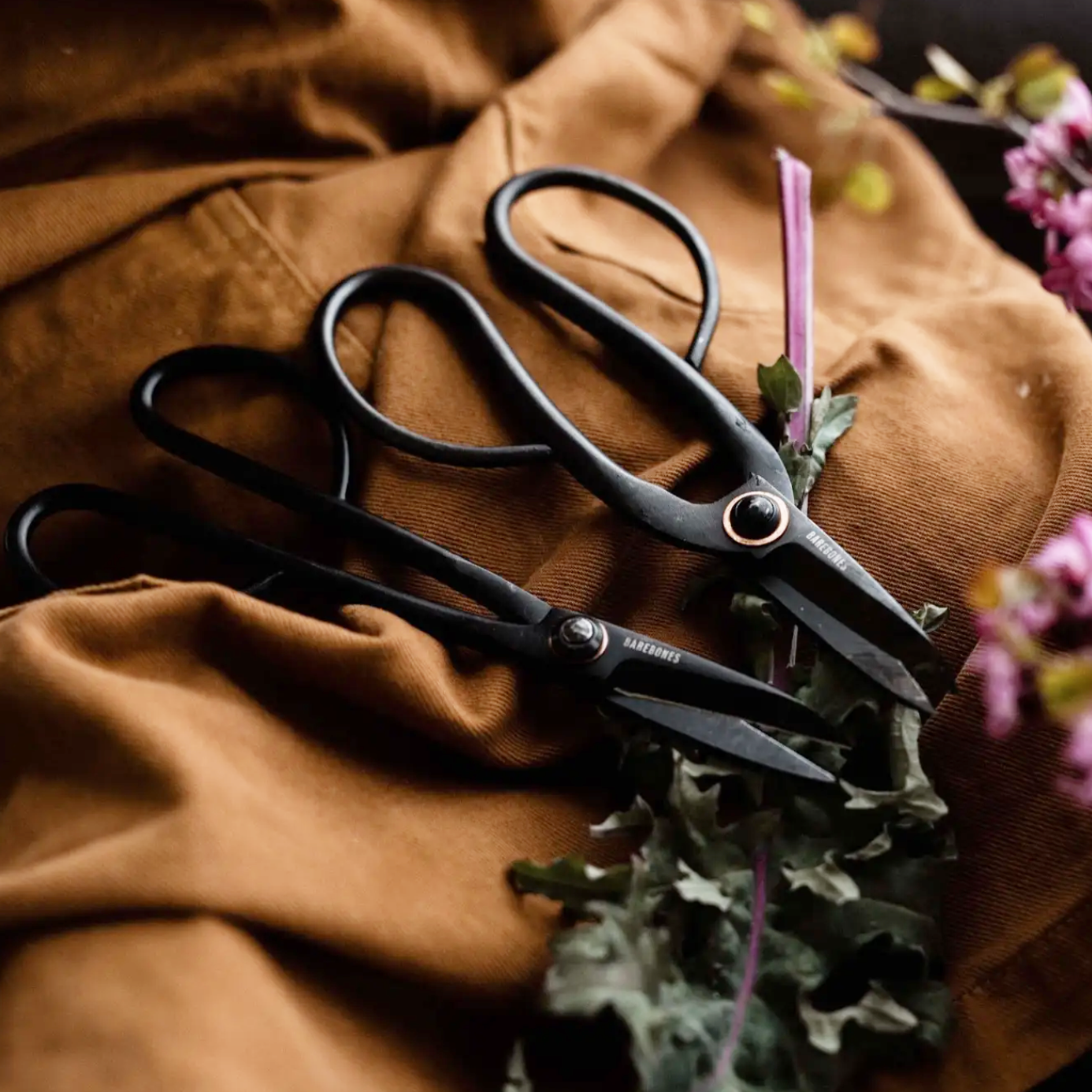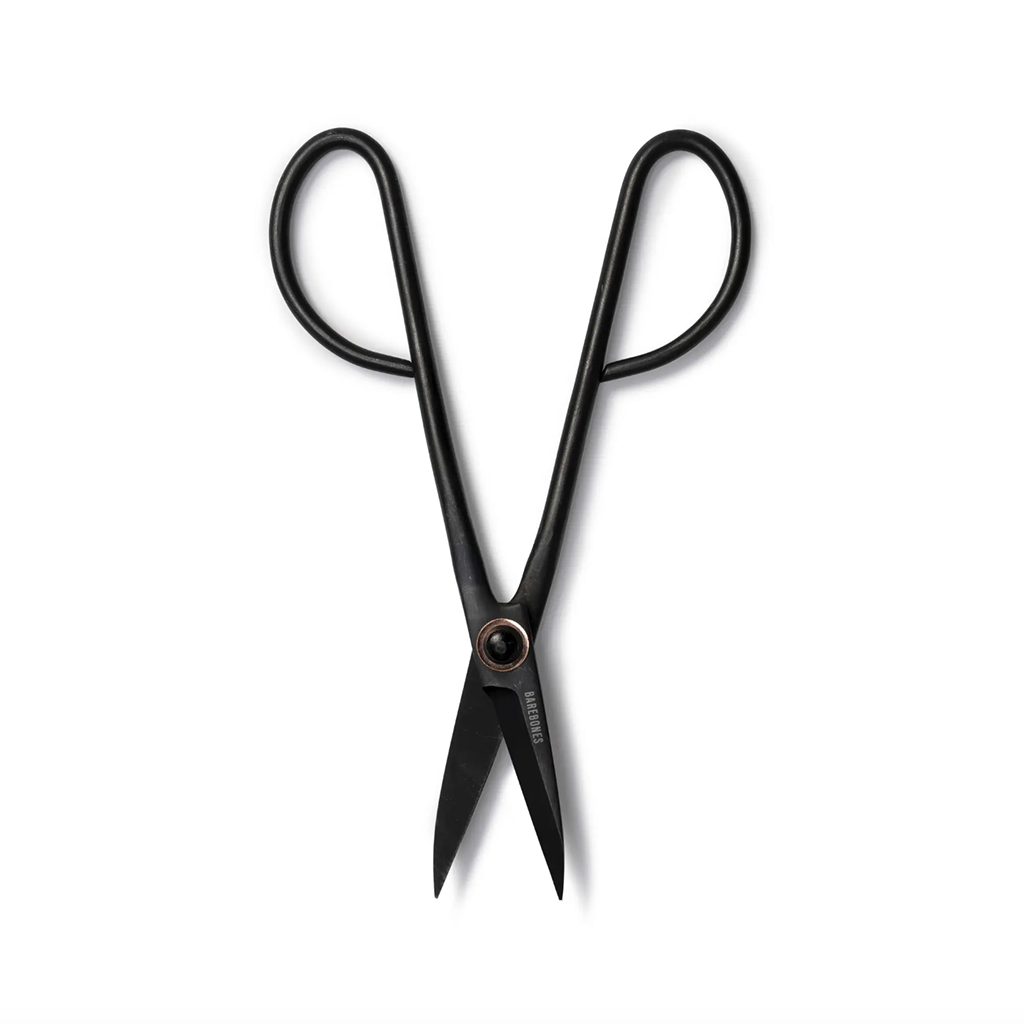 Artisan Shears
---
Barebones Garden Scissors - Walnut
Inspired by old-world Japanese design, the Artisan Pruning Shears and Artisan Trimming Shears support a wide range of horticultural needs. Expect durability and comfort for hours of work outdoors. Intentionally designed to facilitate precision work, the rounded handles of the Pruning Shears provide extra leverage for larger tasks while the deep-reaching Trimming Shears make quick work of more nimble or delicate projects. Ambidextrous handles. Water- and rust-resistant.

Sold Individually.
Details
• 2" blade
• Antique finish
• 2CR13 stainless steel
• Ambidextrous grip
• Water- and rust-resistant

Items included:
1 Artisan Shears

Materials:
2CR13 stainless steel

Dimensions:
Trimming Shears: 8" x 3" x 0.5" | 0.40 lbs
Pruning Shears: 8" x 3.75" x 0.5" | 0.60 lbs

-
Imported. As a Certified B Corporation, Barebones ensure that its commitment to safe, ethical, and sustainable practices is upheld by each company and artisan that touches the products worldwide, without exception.
Artful Craftsmanship & Cherishing Imperfection

Embracing the Beauty of Imperfections: Our unique collection is crafted from natural materials and lovingly handcrafted, resulting in delightful variations. It's important to note that the following characteristics are not defects but rather charming features that make each piece one-of-a-kind. Therefore, they are ineligible for return or refund:

- Tiny black holes and bubbles.
- Surface imperfections that add character.
- Inconsistent color tones, celebrating the organic nature of the materials.
- Different weights, sizes, and shades, showcasing the individuality of each item.
- Irregular patterns, lending an artistic touch to the design.
- Tiny irregularities of contact parts, highlighting the craftsmanship.
Actual product color may vary from the images shown.

Every monitor or mobile display has a different capability to display colors, and every individual may see these colors differently. Lighting conditions at the time the photo was taken can also affect an image's color. 

Spend The Nine cannot guarantee that the color you see accurately portrays the true color of the product.
California Prop 65: This business may sell products with chemicals known to the state of California to cause cancer, birth defects, or other reproductive harm. California Health and Safety code 25249.5 st seq.

For more information: www.P65Warnings.ca.gov